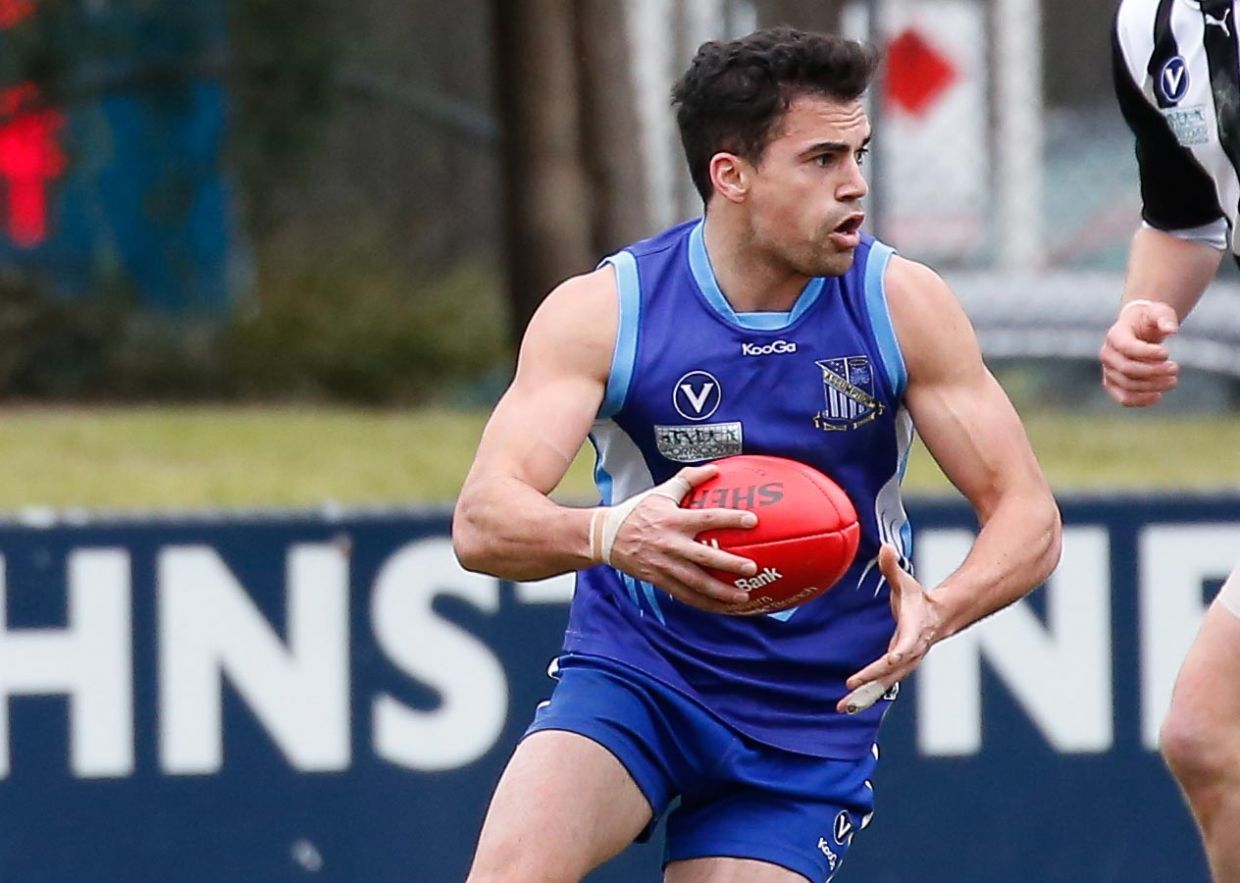 Prahran Assumption cemented their spot in the top four with a 13-point victory over PEGS at Toorak Park. The Two Blues trailed by seven points at half-time before captain James Musster led the charge in a match-winning third term. Riley Hogan (2) and Callum Wilson (2) kicked multiples on an otherwise low-scoring day, while Oscar Bales and Alec Binns were impressive for the Bombers. Prahran retains a two-game buffer over Therry in fifth spot, while PEGS sit sixth and three games outside the four.
Therry moved into fifth spot on the ladder following their 27-point victory over Old Peninsula at Fawkner Reserve. It was very much a see-sawing affair with both sides winning two quarters each, but it was the dominance of Therry in Q1 and Q3 where they piled on 10 goals to two that gave them the edge. Jarrod Egglestone and Kane O'Halloran booted four goals each for the Lions, while Adam Smrdel continued his outstanding individual form for the Pirates.
Old Camberwell returned to form after suffering their first loss of the year in Round 7, bouncing back with a 27-point win over St Mary's Salesian. Leading by eight points at quarter time, the Wellers stamped their authority in the second term with five goals to one proving the difference. Robert Deev and Cameron Wilson were once again named in the best for the Wellers, while teammate Caine Hillier slotted four goals for the second match in a row. William Coten dished out his second BOG performance for the Saints in three games as Henry Wong gave his best for the year.
Whitefriars claimed their second win over Brunswick this season as they ran out 37-point winners at Gillon Oval. Leading by nine points after a tight first half, the Friars kicked away with five goals to one in the third term. James Connellan kicked three in a BOG display while Angus Hands (2) and Christian Feher (2) also had a day out. Liam Weightman and Patrick O'Donoghue flew the flag as the best for NOBS in what was their eighth loss of the season. Friars remain in second spot with seven wins and just the one loss.
Another side who claimed their seventh win of the year, Kew ran over Oakleigh by six goals at Scammell Reserve. The Bears by 14 points at three quarter time but finished in style with five goals to one in the final term. Jeremy Hannan and Bailey Gilbert were the best of the Bears while Nathan Sambevski kicked a game-high four goals. Still without Aaron Cloke, the Krushers relied on Zach Thomas to boot three majors and Edward Standish to continue his fantastic form.