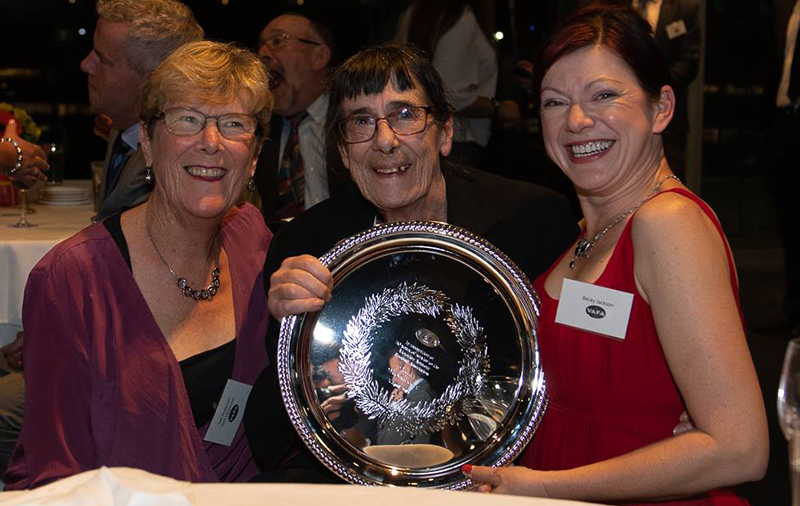 Lana Ryan
VAFA women have been kicking goals off field long before they were showcasing their talents on it, with four in particular inducted as VAFA Life Members over the years.
Sue Anderson is undoubtedly one of the all-time greats. Dedicating 32 years to the VAFA, she started out as secretary of Hampton Rovers in 1983 before becoming a general manager at VAFA headquarters in 1996. She retired in 2015 and was inducted as a VAFA Life Member the following year, becoming the fourth woman to obtain life membership status.
Norma Fullerton became the first female life member in 1972 after holding the position of VAFA assistant secretary for 20 years.
In 1969, Nancy McTaggart began her role as VAFA score recorder, she later assisted in the organisation of the independent tribunal and interstate representative matches and even dabbled in goal umpiring. Her truly remarkable record earned her life membership in 2001, before being awarded the coveted AFL Merit Award in 2019.
Mavis Bastow was inducted as a VAFA Life Member in 2004 in recognition of her years of service meticulously crosschecking player registrations and votes.
In a recent interview, Sue Anderson reflected on her experience as well as on the incredible contributions these women made which helped build the association we know today.
How did it feel when you became a VAFA Life Member?
I was blown away. At first I thought I couldn't accept it. I was quite tearful and very proud because my grandfather was involved in the VAFA and umpired in 1926-27, and my dad also played, so I was raised with VAFA in my blood. It has always been a part of my life. I started as a volunteer at Hampton Rovers and it just grew from there. To be acknowledged for that was extremely special. Honestly, I just love the place.
Tell me a bit about the other three female life members
There is a quote from the VAFA history book that sums up Norma, 'in fact as is so often the case, much of the less glamorous more time consuming association work was performed by women rather than by the high profile person.' That was Norma. She did the hard tasks that others put aside. It was just her and her husband who ran the entire association. I can't imagine all the paperwork she would have done. The same with Mavis, she would check every signature on the team sheet. People simply wouldn't do this sort of monotonous work in this day and age. They were just massive contributors to the VAFA and I would hate to think how many hours they put in, and how much more work they had to do to get a life membership. With Nancy, it's no wonder she won the AFL Award, her history speaks for itself. Apart from doing all the tribunal work, she was also one of the first female goal umpires. I worked with her a lot during my time at the VAFA and she was amazing and so thorough, picking up every umpire score card and checking every goal and behind for years. Who would do something like that?
What did it used to be like for women who were involved in the VAFA?
I know a lot of other women who did enormous work for clubs behind the scenes, but they never got the titles. Even administration meetings were held in spaces where women weren't even allowed into, it was just the way life was. They were often wives of club presidents and secretaries. On top of all the work they put in they were also raising families, cooking, cleaning, even ironing clothes for their husbands to wear to functions that they themselves weren't allowed to attend.
When you started with the VAFA in 1983, did you ever think there would be a women's competition?
I can remember the meeting when Michael Sholly first said that we were going to have a women's competition, and I must admit I just thought no way. We had to consider the financial viability, issues like the changerooms, and so many other logistics. It was a massive achievement because all those little details were like great big mountains that had to be climbed. When we made it to that first-ever match with Hampton Rovers and Ormond under the lights, many of us were standing there with tears in our eyes. We couldn't believe it. It still gives me goosebumps to thing of all the opportunities now available for my granddaughter in football.
How have these women influenced the VAFA?
So much has been achieved for women in the competition because of these wonderful ladies who have worked hard. It's unfortunate that some of them aren't here to see what has been accomplished. But things are changing and women are accepted as equal now, and I'm so proud of what we have achieved. Other associations hold the VAFA in such high standing and these three life members played an important role in that.