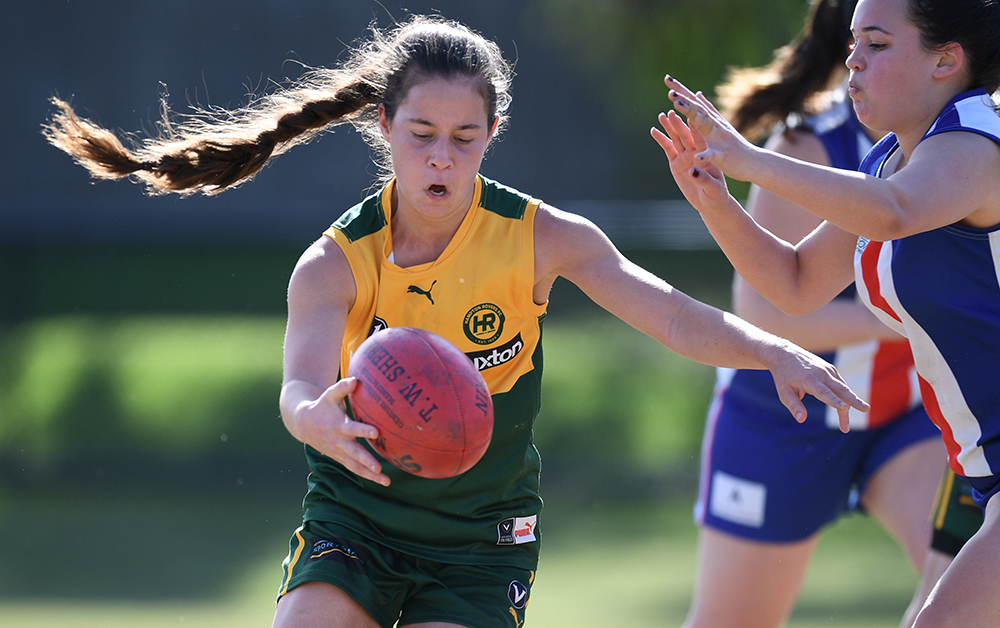 Alisha Min
William Buck Premier
Old Trinity v West Brunswick
Form: WWWWL (OT) v WLLLW (WB) |  Head to Head: 2-0
Thoughts: Less than a goal. Had the Westies kicked one major less, and Old Trinity one goal more, than we'd have two completely different sides duelling for a Grand Final berth this weekend. Credit due where credit is due, the Magpies ability to get on the scoreboard early last week, through another set of awe-inspiring performances by Yo Jones and Mel Lindsay, earnt them this opportunity – which they will have no intention of floundering! Our minor premiers, however, will be utterly determined to make that final match, and with a field of contributors able to make that happen (think Imogen Barnett, Sally Peers, Vanessa Murphy and Grace Dillon), it's difficult to see them falling at this final hurdle.
Premier B
Caulfield Grammarians v Monash Blues
Form: WBWWL (CG) v WWWLW (MB) |  Head to Head: 2-0
Thoughts: It may appear odd on paper to tip the Blues to fill that remaining spot in Premier B Grand Final action given their head to head score with Caulfield, but successful tipping, particularly in finals, is seldom a sensical thing. Expect a close encounter, much closer than their last two meetings in which the Fields won by 50pts (R10) and 18pts (R5), and players the ilk of  Irena Malliaras, Chelsea Fisher and Jessica Harley (Caulfield), and Xanthea Dewez, Ella Stephenson and Arielle Cathcart (Monash Blues), to play big roles.
Premier C
Yarra Old Grammarians v Canterbury
Form: WWWWL (YOGs) v WWLLW (C)  |  Head to Head: 1-1
Thoughts: The Cobras broke free of consecutive Round 13 & Round 14 losses in the "do or die" semi-final last weekend against South Melbourne Districts to make it here, while Yarra fell agonisingly short to the Renegades (four points). If Canterbury can replicate their score from last weekend, or better yet improve upon their 11 points with additional majors, then another victory over the Bushrangers in this, the most important game of the year so far, will be within reach. The YOGs, however, have a plethora of contributors who can swing momentum, none more prevalent than Sarah Kerr, Lucy Schneider and Phoebe Wolff.
Division 1
Old Brighton v Beaumaris
Form: DWLWL (OB)  v WLLLW (B)  |  Head to Head: 1-1
Thoughts: Given the fallouts of the Division 1 section throughout the season, an Old Brighton v Beaumaris preliminary final is quite an unexpected result (though Old Haileybury were so close to altering this fixture in the first semi!). If the Sharks are to prevail, and they're certainly chipper after their two-point semi-final win which also snapped their three game losing streak, the silky skills of Ellen Wood and Sasha Long will be paramount. If the Tonners are to win, Siena Visentini, Ava Hales and Annie Grant are sure to be at the forefront.
Division 2
Williamstown CYMS v Westbourne Grammarians
Form: LWWDL (CYs) v WWWWW (WG)  |  Head to Head: 1-0
Thoughts: Having only met on the one occasion in 2019, due to the CY's regrading earlier in the season, it's difficult to discern exactly how this match will eventuate at Keysborough Playing Fields on Sunday! The Warriors run in the back-end of the season has been second to none, spearheaded by Tess Abbott, Victoria Petit and Sally Seabrook, and they're sure to throw everything at this match against the consistent Williamstown crew.
Division 3
UHS-VU v Hampton Rovers
Form: WWLWL (UHS) v WWWWW (HR)  |  Head to Head: 2-0
Thoughts: The narrowest of losses (UHS-VU), and a confidence boosting win (Hampton Rovers), defines these two sides last matches to end up here: the Division 3 preliminary final. The Vultures, who have been unequivocally at the forefront of this section for the majority of the year, will need big a big output from seasoned players Abbey Mills, Katherine O'Rielly and Madeline Hince to claim that spot in the Grand Final, but the Rovers, led by Taylan Merrick, Bianca Lenarcic and Zara Phillips, will certainly have other ideas.
Division 4
Richmond Central v Ajax
Form: WWLWL (RC) v LWLWW (A)  |  Head to Head: 1-1
Thoughts: These sides are really evenly poised heading into the Division 4 preliminary final, with Snakes managing the most recent win in their Round 11 clash by 23 points and the Jackettes getting the chocolates previously by 38 points in Round 7. Emily Convey and Lauren Barnes have led from the front with their form this season for Richmond Central, and their side will need to figure out a way to quell the influence of Ajax's Isabelle Worth, Maddy Smart, Lindi Nakin to get the win here.