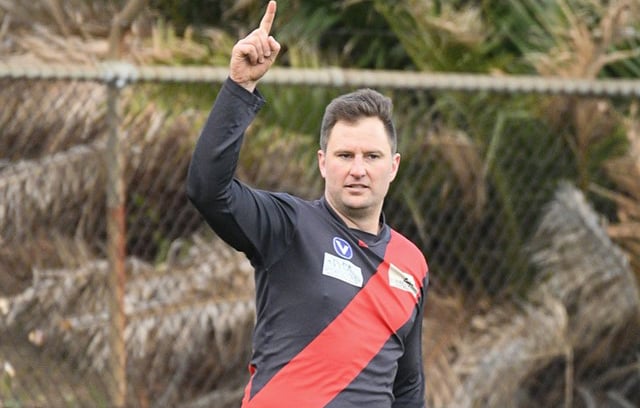 Tash Gunawardana
The next chapter in Elsternwick AFC's already enriched 113-year history is upon us.
A $3.3 million redevelopment including new clubrooms and a resurfaced oval, a new senior men's coach and an inaugural women's team.
Social Media Coordinator Jarrad Nas spoke to VAFA Media about what Wicker fans have to look forward to.
"We have over the last couple of years been able to retain lots of our players as we still have quite a long list having played together now for a couple of years, I think on field it's looking to be a big year as well," he said.
The club improved this season despite having to overcome some challenges.
"It was absolutely a challenge being away from the home ground and at William St Reserve they had temporary facilities and we were running out of some portable sheds," Nas said.
"It was really tough, but it was a credit to the boys as they all stuck together and the fact that we did retain so many players from the year before has only strengthened our squad."
Over the preseason, the Wickers recruited some new players that contributed to the club's success this season in making the preliminary fi­nals in seniors and reserves.
Training numbers were impressive throughout the year and for the first time in a long time the club could select two full sides on Saturday without chasing guys to fill in.
Nas said without the behind the scenes work, the club probably would have struggled, and credit to the men who showed up and focused on playing footy.
All this has attributed to good on field results, especially the senior men's staying undefeated at William St Reserve.
In 2020, the senior men's side will be led by new senior coach Peter Higginbotham.
Higginbotham's coaching experience includes coaching roles at Glen Eira as the reserves assistant and he was there in 2018 when they won the Division 3 premiership.
He also coaches junior sides Bentleigh and St Paul's McKinnon.
Higginbotham coached his son at St Paul's McKinnon, a coaching highlight this season as they won the U13s premiership after an undefeated season.
His involvement at the Wickers began as assistant coach in June this season.
The aspects of the club that have impressed Higginbotham is the club's fantastic history, the great support network of volunteers, the young talent and the new women's side. And Higginbotham said this highlights the progressive mindset of the club.
"Also, the new facilities at the club, which will be one of the best in the VAFA as I have been around lots of clubs and what's being built at Elsternwick Park is really good, the ovals being resurfaced and nets behind the goals," he said.
"It's really modern and will entice people to the club and help the club grow."
As a coach of many years, Higginbotham has learnt that regardless of what level of football you are at, you have to ensure the players are playing their best football and enjoying themselves.
Inaugural women's coach, Danny Byrne, is of a similar mould and cannot wait to build a culture where the women's players can learn in a supportive environment.
The club is running six clinics to recruit players and the first three clinics have attracted 20-30 each week.
Collingwood AFLW player Erica Fowler and Collingwood Head of Development – Women's Football and Midfield Coach (VFLW) Lachie Harris will attend this week's clinic on Wednesday 16th October.
"They live around the corner and when Erica saw the advertising for the club she actually contacted us and asked if there was any way she could help, so she is coming down to teach the ladies and to share her experiences as being part of the AFLW," Byrne said.
The clinics are run in a pressure free environment, so girls can learn basic footy skills while not having to fear full contact – just yet.
The men's players have been supportive and help out in any way they can at the clinics.
Also, imparting her wisdom at the clinics has been over-30s Masters League & St Kilda Sharks VFLW player Belinda Bowey who has played over 350 games, the most games of women's footy in Australia.
The club has recruited players by advertising locally and via Facebook.
"Everyone is on a recruiting drive at the moment, anyone that knows someone who is interested in playing footy and that has played footy before," Byrne said.
Byrne is also the Sandringham Dragons U18 assistant coach and will enter his fifth season next year.
In addition, Byrne has helped at Elsternwick in unofficial coaching roles and played for the club in the early 2000s.
Byrne is passionate about women's footy and his number one priority is to create strong team culture.
"It's such a positive environment to be part of a women's footy club," he said.
"My first few weeks at Sandy I wasn't expecting how amazing that bond between the girls and I am expecting that when we go into women's as well it's going to be the same.
"Everyone is well supported and the relationships you make in footy, they are the best part about footy."