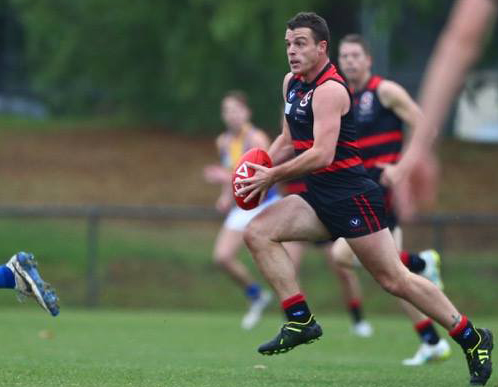 By Andrew Leonard – @Lennytalk
Finals are almost here, but if you are anxious for a finals like atmosphere, get to Camberwell Sports ground this weekend. Old Scotch host Old Xaverians with relegation on the line for both clubs. Of course University Oval will hold our attention also as Uni Blacks host Collegians. Remarkably, one of Old Scotch, Collegians or Old Xaverians will be relegated come approximately 4.40pm this Saturday. Let me put it another way, of the 113 premierships awarded at the top level of the VAFA, these three have won 39, or 34.5%. If you take away the seasons before there was promotion and relegation (and the premierships Collegians won before 1923), the number rises to 38.4% of premierships won are by these three clubs.
I've never been fond of sports movies. I loved the Mighty Ducks first time round, but by the time they made follow ups, I had discovered that nothing can replicate what happens on the sporting field. A script-writer couldn't have delivered a more perfect script for the final round of William Buck Premier. All will be revealed this week and regardless of who goes down, it will be a significant scalp that the relegation system claims.
| | | |
| --- | --- | --- |
| Old Scotch relegated | If Old Scotch lose to Old Xaverians | Old Scotch last time not in Premier: 1980 |
| Collegians relegated | If Collegians lose to Uni Blacks and Old Scotch win. | Collegians last time not in Premier: 2006 |
| Old Xaverians relegated | If Collegians win and Old Scotch beat Xavs by more than 28 points. | Old Xaverians last time not in Premier: 1991 |
So Collegians are still fighting for their season after a great win over Old Carey last week. The Panthers have done a Collingwood and haven't fired a shot in the latter half of the year. Despite this fall from grace, their loss to Collegians was the first time they have fallen out of the four since round 4. In fact the Panthers have been in the top four for 14 of 17 weeks this year. Whilst they are still a chance to play in September for the first time in William Buck Premier, a trip to the Snakepit makes the task more daunting. Collegians jumped to a four-goal lead early before being hauled in by Old Carey. Clearly up for the fight the visitors pegged the Lions back and the sides were locked in an arm wrestle at half time. The third quarter was a tale of two opposites. Collegians kicked straight and Old Carey didn't. The gap was insurmountable and eventually blew out to 40 points at the final siren. Shura Taft kicked four goals and played one of his better games this year. Julian Rowe also booted four for Old Carey. Collegians are still alive and a win against Blacks ensures they stay safe for another year.
All of the above hides the sensational story that is De La Salle. De La Salle are the form side of the competition and their win over top of the ladder St Bernard's saw De La move into the top four for the first time this year. A win against Beaumaris this week will confirm a brilliant come from the clouds back nine to end the season. Whilst I tipped against them when they played Old Trinity, I couldn't be more confident about the prospects of the blue and gold against the visiting Snowdogs. De La had Tom Humphrey's 100th game to celebrate, but more importantly they have an undefeated streak stretching back to round 10. De La Salle is unbeaten since May! So often derided for their mosquito fleet, it is players like Indovino and Nicholson causing havoc for opposition. Take your pick of the brothers Caven for the best from St Bernards.
Old Xaverians were no match for Old Trinity, whose win completed the double over Xavs for a second straight year. The T's were sublime throughout as they returned to the winners list and tuned up for finals. Late goals to Xavs might prove valuable preserving their percentage ahead of this weekend's final match.
Beaumaris played their best match in over a month but the Sharks still fell short of Uni Blacks. The Sharks were within a goal at the final change but with finals still a possibility, Blacks were able to kick clear in the final quarter led by Willingham and Richardson.
Finally Uni Blues took no prisoners as they thrashed Old Scotch. The loss sent the Cardinals back to ninth, staring down the barrel of a return to Premier B for the first time since 1980. Jack Watts returned, he and Pat Gardiner booted four goals each. Cam Williams was brilliant in the ruck.
TIPS
Beaumaris v De La Salle
Old Trinity v University Blues
University Blacks v Collegians
St Bernards v Old Carey
Old Scotch v Old Xaverians