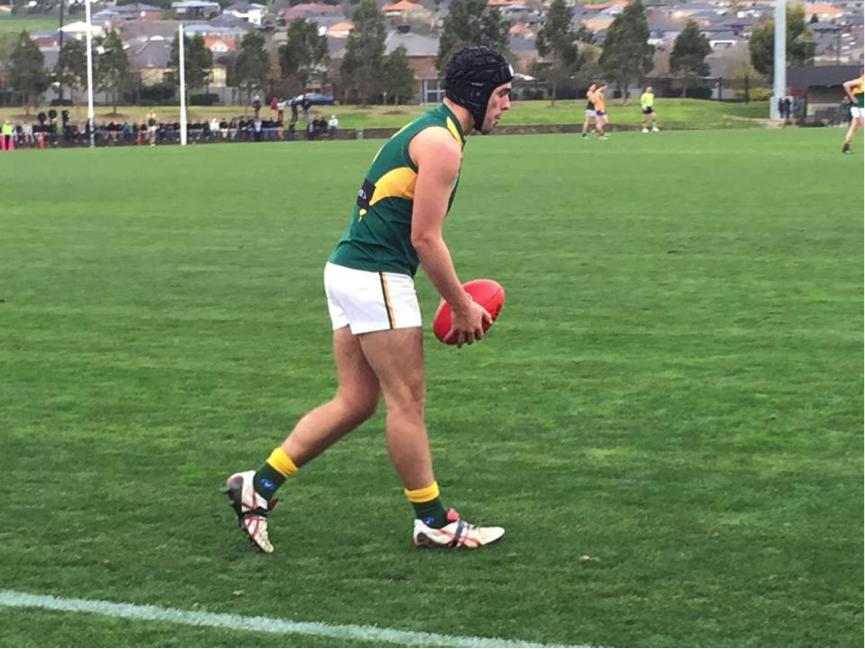 By Andrew Leonard – @Lennytalk
The best two sides of the year have made the Grand Final. In many ways that's all we could hope for. Old Trinity is in unchartered territory, a chance to do as no other side in their previous 60-odd years have managed. St Bernard's has been here before, but probably should have more than their two premierships in the top section. The Snowdogs get the chance on Sunday to add a third after they beat University Blues at Sportscover Arena. The win was St Bernard's most complete performance for a number of weeks.
A fast start and an early report to Pete Summers meant Uni Blues were behind the eight ball. Jack Watts couldn't have the same influence as he had the week before against De La Salle. In fact Jack also found his name in the umpire's book before the day was done. Where the Blues had flourished in recent week was the clearances, but St Bernard's expertly won the contested ball then coupled that with sharper movement of the ball on the outside. Shaun Clarke was influential in the ruck and Old Trinity will have a big task to match him up. The St Bernard's forward line fired and importantly both Tom and Simon Caven (pictured) were in great touch too. When St Bernard's were playing their best football at the start of the year, both Tom and Simon were regularly in their best. Add younger brother Michael and things were looking particularly rosy.

For Blues, it was a season of mixed fortunes. Injuries cruelled their chances of making serious inroads, but you have to admire how far they have come in the past 24 months. From Tom McKenzie's knee injury pre-season, the broken ankles of Silvestro and Hart to the sickening neck injury to Jack Townley, it was a tumultuous season. The rise of Blues under Gleeson has been impressive, let's hope he has at least one more year in him, if not, then there is certainly enough talent there for a keen coach to get their hands on.
William Buck Premier Grand Final Preview
Anyway you look at it, this match presents itself as a mouthwatering contest. Their three meetings this year have been decided by five, six and seven points respectively. Ipso facto we should have a cliffhanger on our hands late Sunday afternoon. Two of the three contests had St Bernards with more scoring shorts and a poorer conversion rate. The Snowdogs turned that around last week, but in 10 of their 20 games this year they have missed more times than they have split the middle. Old Trinity is a last half specialist, but it's harder to swing momentum in Grand Finals and Adam Andrews will be imploring his side to not give up a start.
St Bernard's seem to get better with confidence. Their game style becomes more expansive and they back their skills in too. Their key forwards – any of whom on their day can kick a bag – pose the biggest threat. Who does Nick Howell go to? Does Harry Tinney (pictured) have to play a key defensive post all day thus sacrificing his creative run? Jones and Boyse have 80 goals between them, but Merrington and Gleeson pose an equal concern. Of their 39 players used, only Simon Caven, Alex Singleton and James Bennie have played every week. As is the case in most weeks of the season, it is in the midfield where the battle will be won. St Bernard's are not short on value there too. Clarke we have mentioned is a force in the ruck. At his feet he has the best clearance pair in William Buck Premier, Adam Bentick and Tom Sullivan. Bentick is no stranger to Ikon Park and was influential in the VAFA's pre-season win over the Northern Football League at the same venue.

A win for Old Trinity would be a win for Amateur football. Whilst there is plenty of homegrown talent at St Bernard's, Old Trinity don't have an academy setup like the Snowdogs. Instead they have invested in an old boy as coach and have brought together the most exciting group of talent to enter the VAFA in recent seasons, all from the school. Despite all this good fortune and good management, Old Trinity players have still had to get it done. The end of last season saw the close of legend Andrew Ramsden 's senior career. At Round 8 this year, the T's lost their captain and talisman Brendan Iezzi to a season ending knee injury. They haven't letup since. Old Trinity's talent might be a little thinner, they have used just 34 players, and five have played every game. Despite this only 22 run out on the day and these T's don't hold any punches. The plaudits on the St Bernard's forward line are warranted, but we overlook that Old Trinity have more players that have kicked at least 20 goals this year; Nicolosi, Polidoros, Weatherson, Walsh and Jack Hunt are the five. Enough superlatives have been shared on the way Old Trinity play when they are up and about. Let's hope we get to see it on Sunday.  
St Bernard's at their best are a phenomenal side, but Old Trinity do not allow them to play at their best. Old Trinity has hung tough all year, so regardless of where this game heads on the weekend, the T's will fancy their chances. Both sides would be wonderful results, but a first Premier pennant for Old Trinity with a week's break is how I see this going.
Whatever the result on Sunday, it is sure to be a family affair. With Cavens, Hunts, Howells are all likely to play key roles. Unfortunately this is not good news for the VAFA. With so many sets of brothers and in St Bernard's case, cousins playing in the one side, it will reduce the potential number of parents that will attend.  
Previous meetings:
R1 Old Trinity 12.8.80 def St Bernards 10.15.75 (at Old Trinity)
R10 St Bernard's 14.14.98 def Old Trinity 13.14.92 (at St Bernard's)
SF Old Trinty 8.7.55 def St Bernard's 5.18.48 (at Craigieburn)
Tip: Old Trinity by 11 points, Gabe Hamilton to win the Jock Nelson Medal.