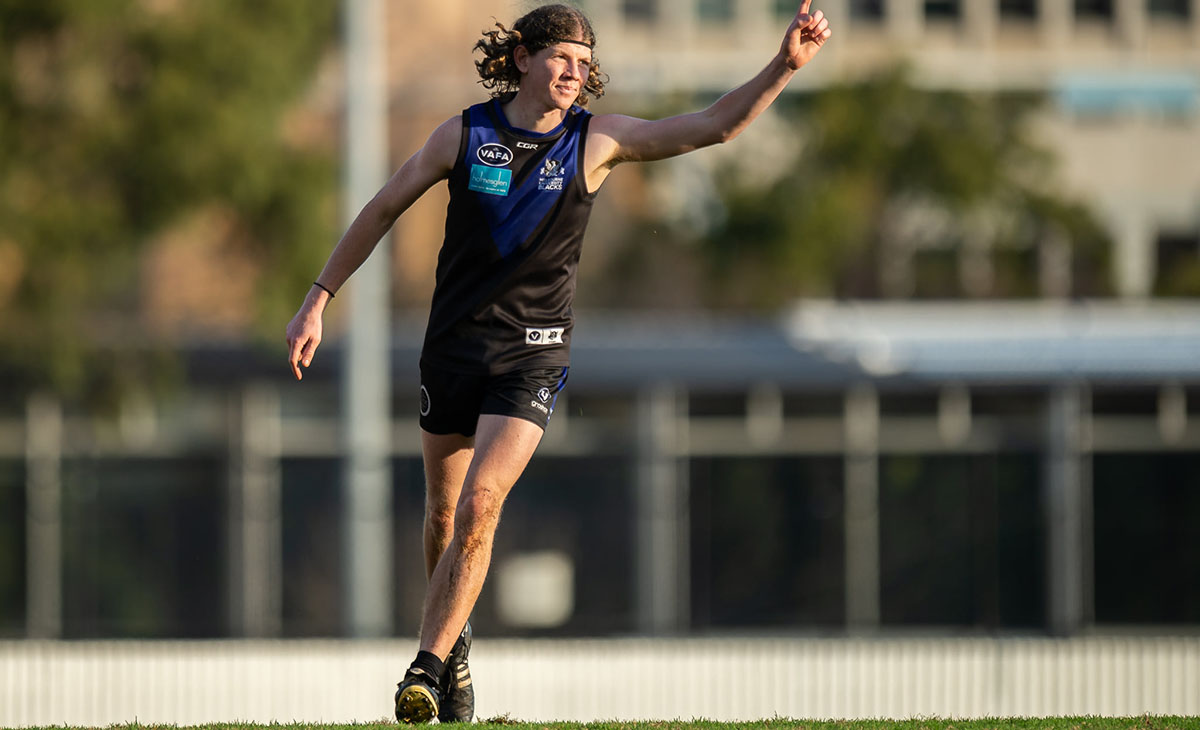 The Premier B Men's fixture has been revealed for the 2022 season, with the action getting underway on April 2.
Brunswick Street Oval will host a feature match on ANZAC Day, between Fitzroy and Williamstown CYMS.
Round 8 will see an Indigenous Round clash between Old Carey and Uni Blacks at the Carey Sports Complex.
As previously communicated, the VAFA Board decided Premier B Men's will consist of nine teams in 2022, with Parkdale Vultures to compete in an 11-team Premier C Men's. Following consultation with all clubs, the preferred model was an 18 round/16 match season.
See the full fixture below.
Fixture is subject to change – refer to GameDay for most recent fixture and results.
| | | |
| --- | --- | --- |
| Round 1 | Venue | Time |
| Saturday, Apr 02 | | |
| Fitzroy vs. Beaumaris | Brunswick Street Oval | 2:00pm |
| Old Haileybury vs. De La Salle | Princes Park Caulfield | 2:00pm |
| University Blacks vs. AJAX | Melbourne University Oval | 2:00pm |
| Williamstown CYMS vs. Old Carey | Fearon Reserve | 2:00pm |
| St Bedes / Mentone Tigers | Bye | Bye |
| | | |
| Round 2 | Venue | Time |
| Saturday, Apr 09 | | |
| Beaumaris vs. Old Carey | Banksia Reserve | 2:00pm |
| De La Salle vs. University Blacks | Waverley Oval | 2:00pm |
| St Bedes / Mentone Tigers vs. Williamstown CYMS | Brindisi St Oval | 2:00pm |
| AJAX vs. Fitzroy | Princes Park Caulfield | 2:00pm |
| Old Haileybury | Bye | Bye |
| | | |
| Round 3 | Venue | Time |
| Saturday, Apr 23 | | |
| Beaumaris vs. De La Salle | Banksia Reserve | 2:00pm |
| Old Carey vs. Old Haileybury | Carey Sports Complex | 2:00pm |
| University Blacks vs. St Bedes / Mentone Tigers | Melbourne University Oval | 2:00pm |
| Fitzroy vs. Williamstown CYMS (Monday 25th April) | Brunswick Street Oval | 2:10pm |
| AJAX | Bye | Bye |
| | | |
| Round 4 | Venue | Time |
| Saturday, Apr 30 | | |
| De La Salle vs. AJAX | Waverley Oval | 2:00pm |
| St Bedes / Mentone Tigers vs. Old Carey | Brindisi St Oval | 2:00pm |
| University Blacks vs. Beaumaris | Melbourne University Oval | 2:00pm |
| Williamstown CYMS vs. Old Haileybury | Fearon Reserve | 2:00pm |
| Fitzroy | Bye | Bye |
| | | |
| Round 5 | Venue | Time |
| Saturday, May 07 | | |
| AJAX vs. Williamstown CYMS | Gary Smorgon Oval | 2:00pm |
| De La Salle vs. Old Carey | Waverley Oval | 2:00pm |
| Fitzroy vs. University Blacks | Brunswick Street Oval | 2:00pm |
| Old Haileybury vs. St Bedes / Mentone Tigers | Princes Park Caulfield | 2:00pm |
| Beaumaris | Bye | Bye |
| | | |
| Round 6 | Venue | Time |
| Saturday, May 14 | | |
| Beaumaris vs. Old Haileybury | Banksia Reserve | 2:00pm |
| Old Carey vs. AJAX | Carey Sports Complex | 2:00pm |
| St Bedes / Mentone Tigers vs. Fitzroy | Brindisi St Oval | 2:00pm |
| Williamstown CYMS vs. De La Salle | Fearon Reserve | 2:00pm |
| University Blacks | Bye | Bye |
| | | |
| Round 7 | Venue | Time |
| Saturday, May 21 | | |
| Beaumaris vs. AJAX | Banksia Reserve | 2:00pm |
| De La Salle vs. St Bedes / Mentone Tigers | Waverley Oval | 2:00pm |
| Fitzroy vs. Old Carey | Brunswick Street Oval | 2:00pm |
| Old Haileybury vs. University Blacks | Princes Park Caulfield | 2:00pm |
| Williamstown CYMS | Bye | Bye |
| | | |
| Round 8 | Venue | Time |
| Saturday, May 28 | | |
| Old Carey vs. University Blacks | Carey Sports Complex | 2:00pm |
| Old Haileybury vs. Fitzroy | Princes Park Caulfield | 2:00pm |
| St Bedes / Mentone Tigers vs. AJAX | Brindisi St Oval | 2:00pm |
| Williamstown CYMS vs. Beaumaris | Fearon Reserve | 2:00pm |
| De La Salle | Bye | Bye |
| | | |
| Round 9 | Venue | Time |
| Saturday, Jun 04 | | |
| AJAX vs. Old Haileybury | Gary Smorgon Oval | 2:00pm |
| Beaumaris vs. St Bedes / Mentone Tigers | Banksia Reserve | 2:00pm |
| Fitzroy vs. De La Salle | Brunswick Street Oval | 2:00pm |
| University Blacks vs. Williamstown CYMS | Melbourne University Oval | 2:00pm |
| Old Carey | Bye | Bye |
| | | |
| Round 10 | Venue | Time |
| Saturday, Jun 18 | | |
| Old Carey vs. De La Salle | Carey Sports Complex | 2:00pm |
| Old Haileybury vs. Beaumaris | Princes Park Caulfield | 2:00pm |
| St Bedes / Mentone Tigers vs. University Blacks | Brindisi St Oval | 2:00pm |
| Williamstown CYMS vs. AJAX | Fearon Reserve | 2:00pm |
| Fitzroy | Bye | Bye |
| | | |
| Round 11 | Venue | Time |
| Saturday, Jun 25 | | |
| AJAX vs. Old Carey | Gary Smorgon Oval | 2:00pm |
| De La Salle vs. Beaumaris | Waverley Oval | 2:00pm |
| University Blacks vs. Old Haileybury | Melbourne University Oval | 2:00pm |
| Williamstown CYMS vs. Fitzroy | Fearon Reserve | 2:00pm |
| St Bedes / Mentone Tigers | Bye | Bye |
| | | |
| Round 12 | Venue | Time |
| Saturday, Jul 16 | | |
| Beaumaris vs. University Blacks | Banksia Reserve | 2:00pm |
| Fitzroy vs. AJAX | Brunswick Street Oval | 2:00pm |
| Old Carey vs. Williamstown CYMS | Carey Sports Complex | 2:00pm |
| St Bedes / Mentone Tigers vs. De La Salle | Brindisi St Oval | 2:00pm |
| Old Haileybury | Bye | Bye |
| | | |
| Round 13 | Venue | Time |
| Saturday, Jul 23 | | |
| AJAX vs. Beaumaris | Gary Smorgon Oval | 2:00pm |
| De La Salle vs. Old Haileybury | Waverley Oval | 2:00pm |
| Old Carey vs. St Bedes / Mentone Tigers | Carey Sports Complex | 2:00pm |
| University Blacks vs. Fitzroy | Melbourne University Oval | 2:00pm |
| Williamstown CYMS | Bye | Bye |
| | | |
| Round 14 | Venue | Time |
| Saturday, Jul 30 | | |
| AJAX vs. University Blacks | Gary Smorgon Oval | 2:00pm |
| Beaumaris vs. Williamstown CYMS | Banksia Reserve | 2:00pm |
| Fitzroy vs. St Bedes / Mentone Tigers | Brunswick Street Oval | 2:00pm |
| Old Haileybury vs. Old Carey | Princes Park Caulfield | 2:00pm |
| De La Salle | Bye | Bye |
| | | |
| Round 15 | Venue | Time |
| Saturday, Aug 06 | | |
| De La Salle vs. Fitzroy | Waverley Oval | 2:00pm |
| Old Carey vs. Beaumaris | Carey Sports Complex | 2:00pm |
| St Bedes / Mentone Tigers vs. Old Haileybury | Brindisi St Oval | 2:00pm |
| Williamstown CYMS vs. University Blacks | Fearon Reserve | 2:00pm |
| AJAX | Bye | Bye |
| | | |
| Round 16 | Venue | Time |
| Saturday, Aug 13 | | |
| AJAX vs. De La Salle | Gary Smorgon Oval | 2:00pm |
| Fitzroy vs. Old Haileybury | Brunswick Street Oval | 2:00pm |
| University Blacks vs. Old Carey | Melbourne University Oval | 2:00pm |
| Williamstown CYMS vs. St Bedes / Mentone Tigers | Fearon Reserve | 2:00pm |
| Beaumaris | Bye | Bye |
| | | |
| Round 17 | Venue | Time |
| Saturday, Aug 20 | | |
| De La Salle vs. Williamstown CYMS | Waverley Oval | 2:00pm |
| Old Carey vs. Fitzroy | Carey Sports Complex | 2:00pm |
| Old Haileybury vs. AJAX | Princes Park Caulfield | 2:00pm |
| St Bedes / Mentone Tigers vs. Beaumaris | Brindisi St Oval | 2:00pm |
|  University Blacks | Bye | Bye |
| | | |
| Round 18 | Venue | Time |
| Saturday, Aug 27 | | |
| AJAX vs. St Bedes / Mentone Tigers | Gary Smorgon Oval | 2:00pm |
| Beaumaris vs. Fitzroy | Banksia Reserve | 2:00pm |
| Old Haileybury vs. Williamstown CYMS | Princes Park Caulfield | 2:00pm |
| University Blacks vs. De La Salle | Melbourne University Oval | 2:00pm |
| Old Carey | Bye | Bye |