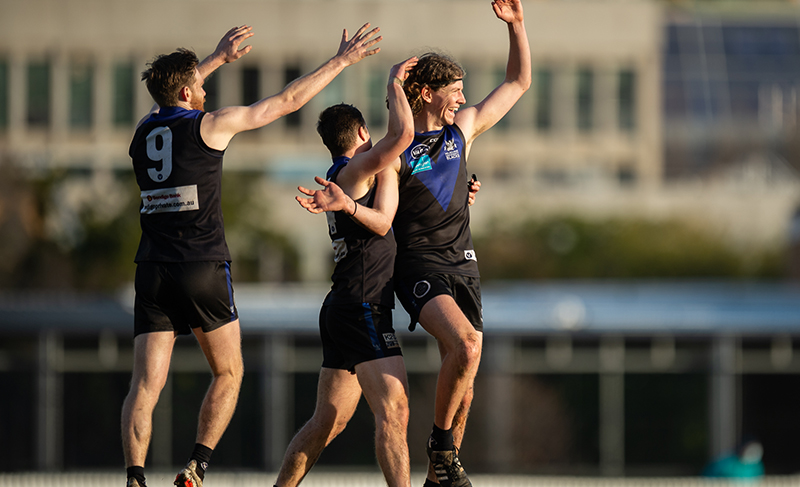 Jake Morris
Off the back of special performances from Nick Hay (six goals) and Lachlan Huntington (five) in a 79-point demolition of Fitzroy, the University Blacks elevated themselves to top of the table as the race to Round 18 begins. Down star ruckman Josh Steadman and reliable forward target Alastair Robbins, the Blackers still managed to put through a season-high 19-majors and 36-scoring shots en-route to their largest margin of victory since the 2019 semi-final against Beaumaris. St Bedes/Mentone Tigers are next up for Uni who are fresh off a heart-breaking red-time defeat at the hands of Haileybury, going down by four-points after Durras Seccull played the villain and secured the Tigers second-straight defeat in the final stages. Uni got the chocolates over Bedes earlier in the year by 22-points with the aforementioned Robbins kicking three while James Mangoni bagged six in a best afield performance. Though the Tigers 'can' score the ball at a decent clip, the University Blacks constrictive defensive line will make life incredibly hard and should be the difference in this one, with the Blackers leaving Brindisi Street with their third straight victory.
Speaking of St Bedes, Old Haileyburians were pushed to the absolute edge by the Tigers, and it took an incredible snap from superstar Durras Seccull in the final few minutes to push the Bloods ahead and hold on to record their seventh straight win. Missing key pieces Josh Gasparini and Riley Thompson, as well as second leading goal kicker Sam Loewe, Haileybury still managed to squeeze out another win, continuing to build on their largest win streak since 2005. Fitzroy returned from their three-week high after Donovan Toohey's round seven heroics, running into the buzzsaw that is University Blacks, going down handily by 79-points, their largest defeat since Round 16 2019. Despite getting some big names back after the hiatus, the likes of Jack Dalton and Tom Wilson are still missing from the regular side, but I still suspect the Roys' will be a lot more competitive going forward despite this result. The Bloods defeated Fitzroy by 18-points in Round 5, a game that saw Durras Seccull and Jack McKay each kicking three apiece. Another tough ask for the Roys after the break, going against another high-powered locomotive in Haileybury that have no issue scoring the ball, an important factor that Fitzroy have a hard time stopping.
The boys from Banksia picked up right where they left off after the break with their elite defensive line continuing to hold their opponents to ridiculously low totals, with De La Salle the only side managing to put more than 55-points on Beaumaris so far this year. Holding their round ten opponents in AJAX to just 27-points, it marks their second lowest total allowed all season, bested by only their opponents this weekend in Parkdale Vultures, who were held to just 14-points in Round 3. Still missing Jackson Voss, Sam Gibbins and Riley Virtue from the side, the Sharks depth has been put on display and they have not faulted. The Vultures put up a gallant fight in their round ten matchup with Carey, going down by just 17-points despite missing their leading goal-kicker Ryan Macdermid. It obviously hasn't been a year to remember for Parkdale but maybe they can use this effort as something to build on. The aforementioned clash between these two sides in round three saw the Sharks run out 123-point winners, and though results this time around may be similar as the Sharks are arguably better than they were earlier in the year, lets hope the Vultures can keep this competitive.
A record-breaking weekend for De La Salle as they decimated Williamstown CYMS by 128-points, their largest margin of victory in over a decade. Paired with this, De La also managed their highest scoring total in over ten years, passing their 176-point total in Round 12 2012. Despite missing star Hugh Nicholson for the clash, Brodie McLaughlin (seven majors) and Adrian Indovino (six) managed to shoulder the load en-route to De La's fifth consecutive victory, tying their longest winning streak since 2015. Tasked with derailing this unstoppable machine this weekend is Old Carey, who ended their three-game losing streak with a 17-point win over the Vultures. Running out without key players Ben Jepsen, Will Mitchell and Henry Chapman, the Panthers could be forgiven for not being overly convincing in the win, but the four-points is what they came for, and the victory lifts them out of the relegation zone and into sixth. Indovino was arguably the deciding factor in their round six clash which saw him kick four in De La's 19-point win. The main difference between these two sides is their ability to put the ball between the big sticks, and fresh off a historic performance at Dairy Bell, it wouldn't be a shock to see the Blues put another large total on the board here.
Moving on from the perpetrators of the Destruction at Dairy Bell, the victims in Williamstown CYMS also set some records they may want to forget. This was the CYs largest defeat since Round 15 2012, and their largest score allowed since Round 1 2015, though it was clearly a terrible afternoon, a chance at redemption awaits this weekend as they return home to Fearon for a clash with AJAX. Bradley Tucker is still absent from the side, so hopefully he isn't too far away and can return to boost the midfield depth. Limited to just 27-points in round ten, their lowest score since Round 18 2018, the Jackas have been struggling to put points on the board all season long, averaging a mere 48-points per game. Paired with this, AJAX hold the competitions lowest percentage in-front of goal, converting only 38.9% of shots they take (51/131). Despite all of this, the Jackas still have a strong defensive structure in place and can lean on this to keep things close. This one should be relatively close but look for the CYs to get revenge on their former Premier C counterparts and get the win at home.