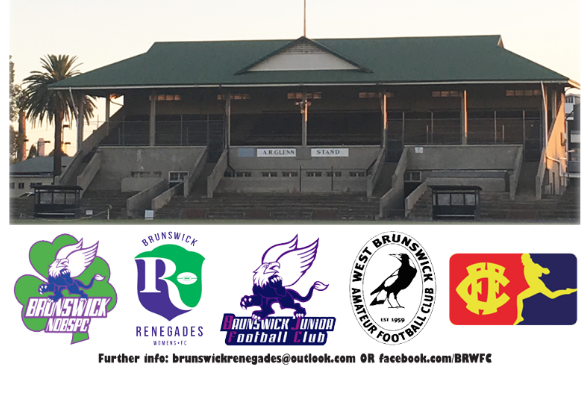 Brunswick will come alive this Saturday when its football fraternity meet for a day-long festival at AG Gillon Oval on Saturday.
Brunswick NOBSPC, Brunswick Renegades, West Brunswick, Fitzroy and Brunswick Juniors will take part in a multitude of men's and women's practice matches in the first-ever Brunswick Football Festival.
The day will be action-packed with music, food and coffee trucks, and a BBQ in true Brunswick style from 11am – 9pm.
The day bodes as the perfect pre-cursor to the VAFA Round 1 season opener next weekend.
Game Information
11:30am-1pm: Brunswick Colts -v- Fitzroy JFC Colts
1:00-2:30pm: Renegades Development -v- West Brunswick Womens
2:30-4:00pm: Renegades Premiers -v- Fitzroy
4:00-5:30pm: Brunswick Clubbies -v- West Brunswick Clubbies
5:30-7:00pm: Brunswick NOBSPC Reserves -v- West Brunswick Reserves
7:00-8:30pm: Brunswick NOBSPC Seniors -v- West Brunswick Seniors