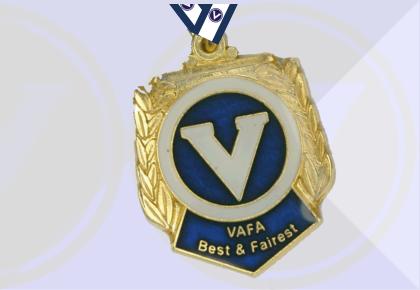 The VAFA would like to congratulate the five winners who each came away with a medal from last night's Division 1 – 4 league vote counts.
Sidney Jones from St Mary's Salesian took out the Division 1 LS Pepper Medal, Dean Calcedo and Timothy Harper tied for the Division 2 Fullerton Medal, Paul Baranello of Emmaus St Leos won his second Hutchinson Medal in Division 3, while Parkside's Shane McLaren dominated the Division 4 OJ Meehan Medal.
With each count starting at Round 9, Jones sat three clear of Kew's Jack Delbridge on 15 votes. Despite only polling four votes in the second half of the season, Jones' 19 was enough to hold off Delbridge and Daniel Hogan of Whitefriars and bring the LS Pepper Medal to St Mary's Salesian.
The Division 2 vote count provided a heart stopping finish, with Melbourne High School Old Boys' Timothy Harper polling three votes in the very last match of the season to draw level with Northern Blues star Dean Calcedo on 19. Ricky Costanzo – who was a constant threat throughout the night – finished runner-up on 18, while Ivanhoe skipper, Mitchell Lovell, finished on 17.
Timothy Harper interview:
Dean Calcedo interview:
Emmaus St Leos veteran, Paul Baranello, led from start to finish in the Division 3 Hutchinson Medal count. On 23 votes at the half way mark, all rivals were resigned to the fact they'd be chasing second spot as Baranello streaked ahead to finish on 31. His nearest rival was Hawthorn's Sam Gold who polled strongly in the second half of the season to run away with second place with 21 votes. Dylan Muscat of West Brunswick polled three in the last round to elevate him into third position and just one vote ahead of Baranello's brother, Nathan.
Earlier in the night, Parkside's Shane McLaren dominated the Division 4 count, finishing on 30 votes and 10 ahead of Nishan Coyne in second position on the leader board. Cam Liston of Box Hill North polled excellently throughout the middle part of the season to finish on 16 votes and in third spot.
Shane McLaren interview: