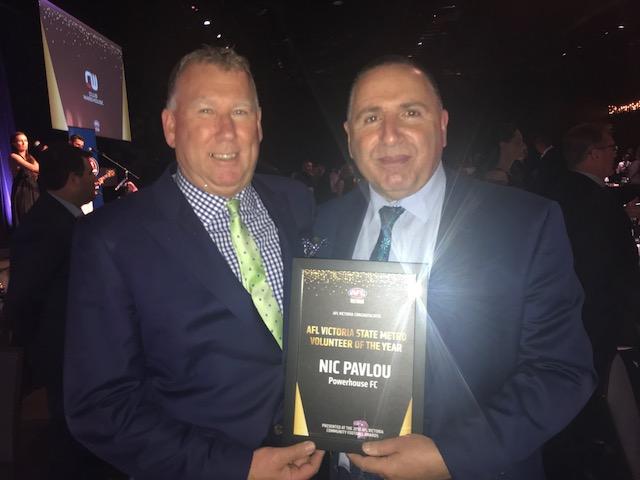 Power House President Nic Pavlou has been named the State Metro Volunteer of the Year at the 2018 AFL Victoria Community Football Awards over the weekend.
Pavlou, who played over 300 games for the House, has served numerous roles on the committee during a 38-year stint; including his current term as President for a record 10 years.
Pavlou accepted the award on behalf of the people who work tirelessly to keep grass roots football teams and associations alive and well.
"I'm honoured, but I'd like to accept this award on behalf of volunteers of AFL Victoria clubs and clubs across the country," he said.
"The game revolves around the people who volunteer behind the scenes."
He acknowledged that volunteers do not do what they do for recognition, but to be involved in their local community.
"We don't do it for the glory. We do it because we love helping and being a part of something that matters," he said.
"Our club motto of 'Service without Recognition', is a cornerstone of how we operate as a football club."
Pavlou ended by highlighting that he finds the most joy in seeing those who help around the club, each united by the love of Australia's great game.
"My greatest thrill is seeing the growth and development of the men and women who come through our club, both on and off the field. That is the most important part of what we do."