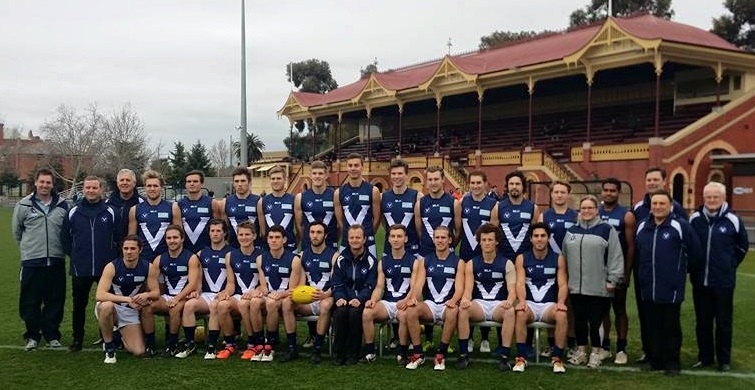 The U19 Big V representative squad has been culled to 33 ahead of this Sunday's clash against AFL Vic Country at Preston City Oval, with 11 players from each of William Buck Premier, Premier B and Premier C making the cut.
St Bernard's leads the charge with four players selected, including Mitch and Chris Hughes, Charlie Vague and 2015's U19 captain Michael Caven. Kew boasts three representatives, while the remaining players are spread out across the top three sections.
The squad will undergo two more training sessions and the finalised team of 22 will be announced on Thursday night.
Sunday's clash kicks off at 11:15am and the VAFA encourages all supporters to make their way down to Preston City Oval and watch the next tier of elite VAFA players plying their trade.
| | | |
| --- | --- | --- |
| Name |   | Club |
| Christian | Carnovale | Hampton Rovers |
| Nicholas | Silvestro | Caulfield Grammarians |
| Corey | Connelly | Old Haileybury |
| Luke | Gogis | Ormond |
| Liam | Hiscock | Beaumaris |
| Kurt | Lopo | Parkdale |
| Lachlan | Byrne-Jones | Old Scotch |
| Tom | McKenna | Mazenod |
| Ben | Dance | St Bedes/Mentone Tigers |
| Jesse | Maxfield | Ormond |
| James | Allen | Old Camberwell |
| Harry | Hill | Old Brighton |
| Mitchell | Hughes | St Bernards |
| Chris | Hughes | St Bernards |
| Adam | Johnson | Monash Blues |
| Luke | Globan | Beaumaris |
| Christian | Middleton | Collegians |
| Will | Nichols | Old Carey |
| Jack | Wallace | Caulfield Grammarians |
| Harry | Thompson | Old Trinity |
| Charlie | Vague | St Bernards |
| Alex | Mastromanno | Old Brighton |
| Michael | Caven | St Bernards |
| Joshua | Tyquin | De La Salle |
| Ben | Hurley | Kew |
| Andrew | Scott | Collegians |
| Matt | Blair | University Blues |
| James | Landman | Ormond |
| Jake | Maher | Marcellin |
| Matt | Colak | De La Salle |
| Rob | Maibum | Kew |
| Connor | Riley | Old Haileybury |
| Sam | Glover | Kew |