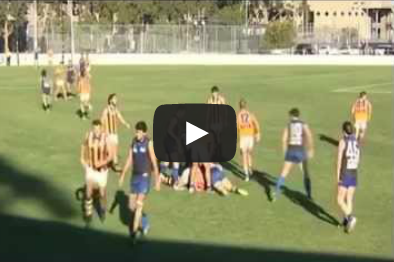 Confirming leading with the head interpretation
Posted on -
VAFA News
,
Coaches Association
,
Latest News
,
Premier Men's
,
Premier B Men's
,
Premier C Men's
,
Division 1 Men's
,
Division 2 Men's
,
Division 3 Men's
,
Division 4 Men's
,
Unders
,
Featured
,
Thirds
,
Umpires
The VAFA has confirmed that VAFA Umpires will follow the AFL's lead and be implementing the new interpretation for the holding the ball – prior opportunity rule when a player elects to lead with their head into a tackle.
A player who drives or leads with his head into a stationary or near stationary player will be classified as having had prior opportunity. If the player is then tackled correctly he will have to dispose of the ball correctly by hand or foot to avoid being penalised for holding the ball under the prior opportunity rule. 
This interpretation will take place from Round 9 of the VAFA Season.
Please see the video for clarification.