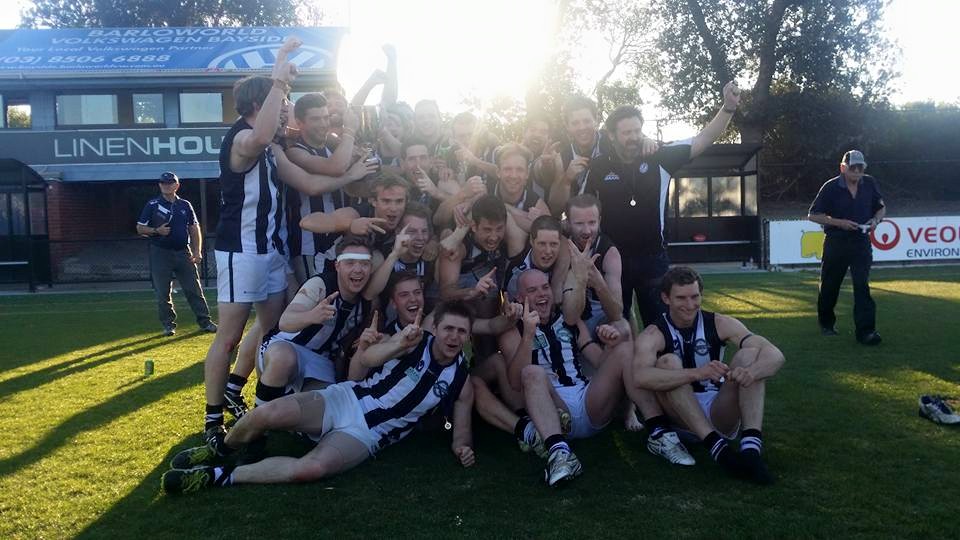 By Nick Armistead
West Brunswick Amateur Football Club broke with the norm in the lead up to last year's Division 3 decider after they agreed to star in a men's mental health production on the Thursday night before the main event.
With both their Senior and Reserve sides competing for their respective premierships, all members of the Club recognised the importance of their participation in the Vice Media film as they aimed to help draw attention to the difficulty adult men often face making friends.
"They (Vice Media) got in touch with us as they were looking for a club who would be happy to take part in a video shoot about adult men making friends," West Brunswick mentor and 2015 VAFA Senior Coach of the Year Angus Hamilton told VAFA Media.
"I put it to the senior players as to whether they would support this going ahead, as it would be a bit of a disruption to training, and it was unanimously supported."
Importantly, the decision was a total buy-in from the entire playing list. Although only the Reserves had finished on top of the ladder at the end of the home and away fixture and were considered favourites heading into the grand final, all listed players agreed to the less formal training session.
"I felt a great sense of pride towards the boys that as much as playing in a grand final mattered to them, there was a realisation that football is a game and that as a club we could be part of something that can make a positive change in someone's life," Hamilton said.
Furthermore, Hamilton saw the opportunity to take overexcited minds off the biggest game of the year as a way to help reduce potential pre-game jitters and burnout.
"In a lot of ways it's probably not a bad week to do it because in my view we're not going to learn much on that week," he said.
"We're not going to be training super hard that week. It was more we'd get together, just speak through a couple of things which every club would do and have a bit of a kick around, BBQ, pick the sides and team meetings.
"It took the focus off the football for a few hours which coming into a grand final week, everyone gets a bit tight so I think it just kind of loosened everyone up."
Ultimately, the decision to participate in the film had no negative bearing on the result of either sides' grand final, with both outfits holding the silverware aloft after hard-fought victories against Emmaus St Leo's and Swinburne University, respectively.
Vice Media's men's mental health production was not the first cause West Brunswick has committed to supporting, with the Club actively promoting similar societal issues over recent years.
"The club also prides itself on being very socially aware and proactive, particularly in the area of men's mental health and particularly young men," Hamilton said.
"We were extremely proud of the Uni Blacks 'Gay? That's OK!' initiative, the way in which the VAFA embraced it, and we're proud to have played a small part."
Club President and premiership player, Ben Lichtenstein, reiterated Hamilton's sentiments and praised the efforts of everyone from Seniors through to Club XVIII, volunteers and coaching staff for "singing from the same hymn sheet".
"Things such as supporting mental health issues, tackling homophobia in the community and supporting equality of the sexes, are areas in which players have been wholly supportive," he said.
"It really is a total buy-in from everyone that is needed to achieve what you want on the field."
West Brunswick will attempt to re-enact last season's premiership heroics in Division 2 this year, with the Seniors aiming to go for three in a row after their Division 4 triumph in 2014.