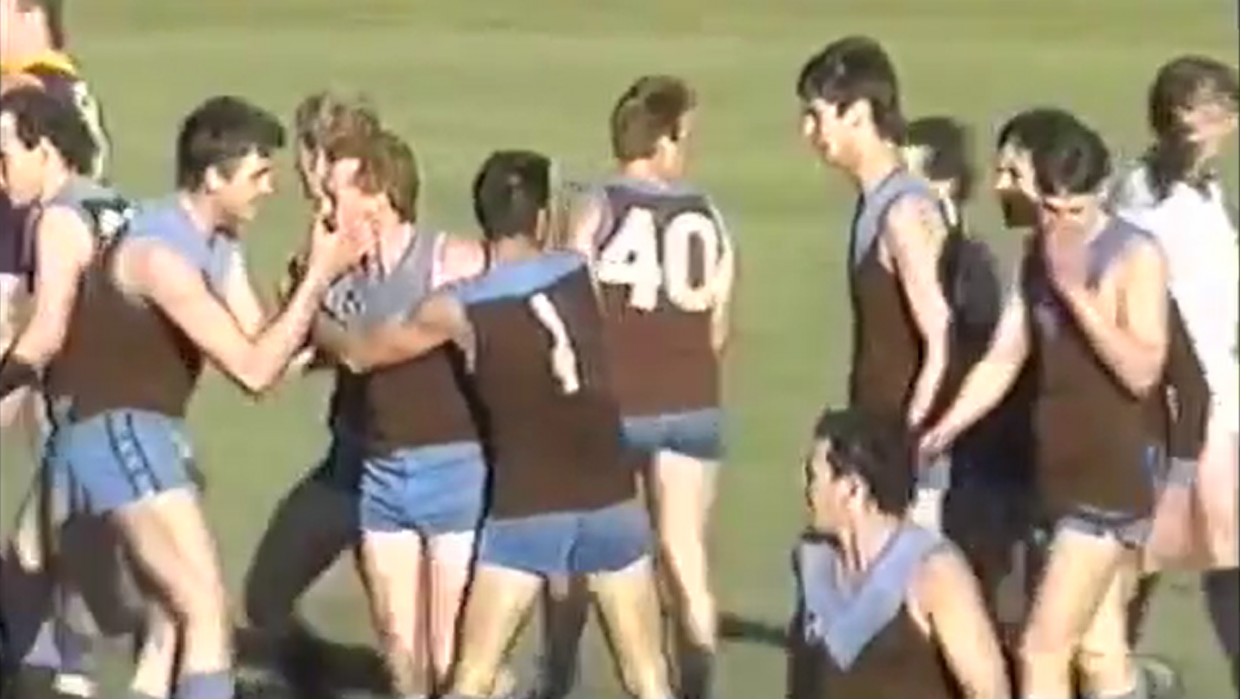 Tom 'The Villain' Johnston – 1989 Preview

Ormond will start warm favourites in Sunday's Grand Final against Collegians. Since 1928 Ormond have won 7 A Grade Premierships; Collegians 7 A Grade premierships. Incredibly they have only met once in an A Grade Final. 1937 Collegians 15.17.107 defeated Ormond 8.20.68. Both sides have once strung three premierships in succession: Collegians 1957-1959 & Ormond 1971-1973.
The last 4 premierships have been won by these sides: Ormond 1985, 1987, 1988. Collegians 1986. Will Ormond make it 4 premierships out of 5 or will Collegians stop Ormond winning 3 premierships in a row?
The winning side will have plenty of character, the ability to handle the conditions of the day, the personal and team discipline, and the mental and physical toughness. A slice of luck are the qualities which will bring Ormond or Collegians the J.A. Adamson Cup. Looking at the line-ups, Ormond has the edge down the spine. Their versatility at fullback where Hille, David McDonald and Best are all more than capable of coping with Berzins, Daly and Keith Parsons whose lack of pace could be a liability. Hille must play Berzins from in front as Berzins is dynamite kicking for goals as his 4-1 in the last quarter proves. The Ormond trio, but especially Best whose skill with hand and foot and use of the ball sets up so many attacking moves are quick, can all mark and are disciplined enough to knock the ball away under pressure.
If Ormond have the edge at full back, Collegians might just regain it at centre half forward where Schmidt with his spring and height will worry Mark McDonald. Bennett with Gilmore should be a ripper. Bennett did not work hard enough last week against Marcellin. With his league experience Bennett must be a focal point of attack. Kahn is a goer and will worry Brown.
Across the centre I believe we will witness a contest and a half. Nick Cox on Parkin should be sensational, both are quick, both are good. Parkin, quiet last match, must lift. Clarkson versus Hoyle could be the key to the match. Russell on Tregear both very talented players who play with great courage, what a battle we should witness. Football followers talk about the great Richmond centre line of Clay, Barrott, Bourke. The Ammo's will have two great centre lines. Whatever centre line wins their side will control the match and the game.
McCooke, Taylor, Connell versus Scott, Schober, Galbraith. What another great contest. Two Victorian teammates, Taylor who must take one grabbers against ever reliable Schober. I expect Schober to take the honours in the contest. Connell versus Galbraith will be a ripper. Galbraith is having a fantastic year. Connell is reliable. Galbraith is Collegians springboard of attack, initiating many attacks. McCooke versus Scott, neither player is brilliant, both are honest.
The clash on the Ormond full forward line could be the key to the outcome of the game. Jobling, Schuhkraft, Tobin versus Wright, Hinchen, Williams. What a good collection of players. I believe Jobling will start in the forward pocket giving Wright the opportunity of picking him up. Jobling is dangerous as his 4 goals in the second semi proved. Wright is in top form. He completely dominated the resting Marcellin on-ball players last week and has had a great final series. Schuhkraft goalless in the second semi will lift for his clash with Collegians captain Stuart Hinchen. If Hinchen can keep Schuhkraft to a low score the odds will swing in Collegians' way. Tobin versus Williams is another interesting clash. Tobin. quiet of late, must fire. Williams is a steady player without being spectacular.
The clash between the on-ball players of both sides is bound to be the real highlight of the match. Paul McDonald versus Chris Pollock. Phil Kingston versus Mark Hibbens. Paul Cox versus Tony Wallace. All 6 players are proven amateur final players. Either sides will have an advantage in the skill or experience area. McDonald is Ormond thru and thru, rarely beaten. Paul must counter Chris Pollock around the ground. Pollock was dangerous when resting last Sunday. Kingston will start on the ball to give the Ormond side muscle in the centre. Phil has got the Rhy Jones Head (everyone wants a piece of it). His opponent, Mark Hibbens, helped set Collegians victory up last week and he must not be given the free rein the Marcellin players gave Mark. Paul Cox clash with Tony Wallace will ensure what side will win, both are great players, both have enormous courage, both are skillful, both are team players, both are hard but fair. What more can I say? Let the best man win.
It all adds up to one hell of a final. Great individual duels, fierce competition, two best teams in Amateurs. Will Collegians tire after their physical clash with Marcellin? Will Ormond go off the boil after their rest? I think not. I expect Ormond to win. They are awesome in the finals and will go in today's clash with a decided psychological advantage after beating Collegians in the second semi by 24 points. Ormond's qualities of team and personal discipline with greater team commitment, in addition to the individual brilliance that exists in the side, will ensure the clubs 8th A Section premiership.
What the Coaches Say
Mike McArthur-Allen (Ormond): "I think we'll win, but it will be a tough game in that we are going for an important historical event (3 flags in a row). Our greater fitness and discipline will see us through."
Bruce Ferguson (Collegians): "It is going to be a very difficult game. Ormond has been the best side this season as they have shown by finishing on top of the ladder. We played reasonably well in the second­ semi so ii we keep the pressure on them all day we might get away with it."
ORMOND
1
P. COX (22)
Courageous, consistent and tireless worker
2
P. SCHUHKRAFT (24)
Fast leading, strong marking forward
5
D. McDONALD (25)
Reliable, hard working defender
6
A. BEST (22)
Hard working, close checking defender
7
M. GILMORE (22)
Close checking utility who contests hard
10
M. McDONALD (24)
Strong, physical key position player
13
P. KINGSTON (26)
Rugged, tireless worker, All-Aust.
14
S. TAYLOR (21)
High leaping, mobile ruckman
15
N. COX (20)
Elusive and skilled wingman
19
A. JOBLING (24)
Extremely fit and fast ruck rover
22
B. CONNELL (21)
Quick rover who contests very hard
23
P. McDONALD (23)
Hard working ruckman
24
S. McCOOKE (29)
Experienced, reliable big game performer
25
P. FORSYTH (28)
Unassuming possession winner
26
M. BROWN (20)
First year attacking defender
27
T. HILLE (23)
Able defender who uses body well
34
G. RUSSELL (29)
Centre line player, attacks and defends well
35
S. GRACE (21)
Strong, hard working utility
40
M. TOBIN (23)
A tireless competitor
63
J. CLARKSON (20)
Skilfull and consistent possession winner
COACH
M. McARTHUR-ALLEN
COLLEGIANS
1
S. WILLIAMS (28)
Veteran, versatile, strong big man
2
D. HOYLE (27)
Club vice-capt and a noted finals player
3
R. Berzins (25)
Enigmatic and elusive forward
4
M. HIBBINS (28)
Versatile player, great reader of the game
6
A. INGLETON (27)
Experienced link player
8
C. Pollock (25)
Mobile ruckman who is a strong mark
11
W. DALY (19)
Elusive, strong marking youngster
13
S. HINCHEN (26)
Inspiring and storng captain
14
R. SCHOBER (23)
Talented All-Aus backman
16
A . WALLACE (22)
Courageous pacey small man
17
G. TREGEAR (24)
Talented wingman
18
J. BENNETT (26)
Mobile strong marking big man
19
P. SCOTT (22)
Close checking, first year player
23
A. WRIGHT (25)
Fast and courageous
27
A . COOPER (22)
Talented left-foot sharp shooter
29
K. PARSONS (27)
Tenacious, experienced rover
30
M. GALBRAITH (19)
Extremely classy defender
34
P. KAHN (30)
Veteran utility player
42
H. STEPHENS (22)
Good return this year
44
A. PARKIN (18 )
Vastly improved young player
66
J. SCHMIDT (22)
Spectacular high flyer
COACH
B. FERGUSON