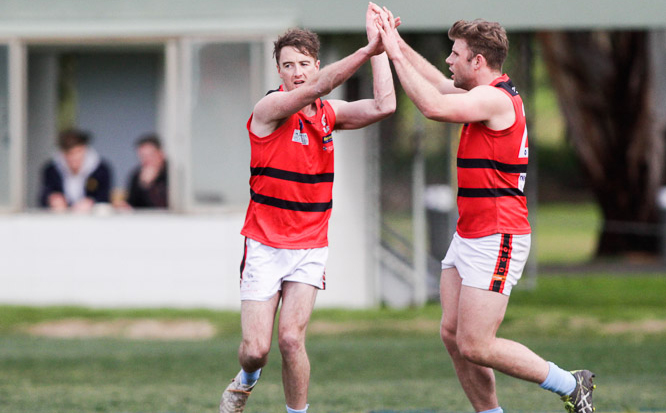 Six goals from Brendan Goss led Old Xaverians to a thrilling 15-point come-from-behind victory over University Blacks at Sportscover Arena.
Trailing at every break throughout the day and by as much as four goals 16 minutes into the third term, Xavs mounted their comeback via controlled possession and defensive pressure in a sensational fourth term performance.
Four unanswered majors in the final quarter solidified the Xavs' victory as Tyson Thomas and John Shaw led the charge from the midfield.
Shaw engaged in a competitive one-on-one battle with Blacks big man, Josh Steadman, in the first half but managed to wrestle back the momentum and give first use to the Xavs midfielders.
Despite getting a number of opportunities to close the gap late in the fourth term, the Blacks were unable to penetrate their own forward 50 as Dan Noonan and Nick Wynne intercepted everything which came their way.
Matt Handley (three) and Thomas (two) added five for the Xavs as Goss put on a forward line masterclass. The wide expanses of Sportscover gave him more freedom to get on the lead and he rarely made a mistake with the set shot from beyond 45m.
The Blacks were irrepressible for the first three quarters as Hugh Curnow starred with a bevy of disposals and elite ball use. Matthew O'Brien popped up for three goals and loomed as the genuine x-factor, while Brent Sheahan got better as the match progressed.
Xavs will now meet University Blues in next week's preliminary final after they went down to Old Trinity by 61 points yesterday.
*Feature photo: Ari Hatzis