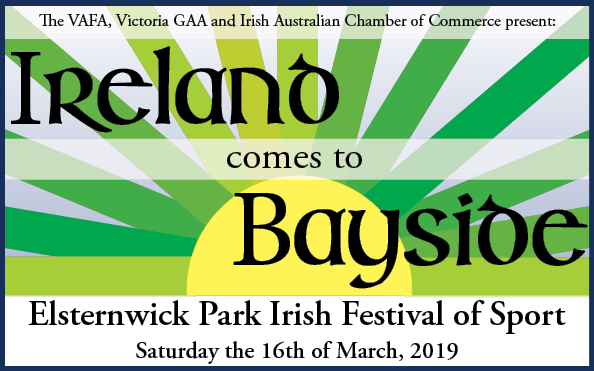 Elsternwick Park is set to turn emerald green for the St Patrick's Day weekend when the VAFA takes on Victoria Gaelic Athletic Association (GAA) amid a festival of Irish sport.
The VAFA, Victoria GAA and the Irish Australian Chamber of Commerce will join forces for exhibition games of international rules football, with the VAFA fielding both men's and women's representative sides.
The day bodes as the perfect celebration of Irish culture and will kick off with an exhibition hurling match while children will have the opportunity to check out the Kid's Zone and give traditional hurling a go.
This first-of-its-kind event will mark the latest chapter in the VAFA's proud recent history of international rules football after first sending representative sides to tour Ireland in 2011.
So bring your kids, pack your deck chairs and revel in one incredible day of Irish sport!
Details: 'Ireland comes to Bayside' on Saturday 16 March at Elsternwick Park
12pm – Exhibition Hurling Match
2pm – Women's International Rules Football Match: VAFA vs Victoria GAA
4pm – Men's International Rules Football Match: VAFA vs Victoria GAA
Kids GAA 'Come & Try' throughout the day
Food Carts & Drink Stalls
Entry – $10 per person (Kids enter FREE)